Some Personal Reflections
On The Development Of The
Personally Directed Retreat Movement
And The
Work Of J. J. English, S.J.

Through The Guelph Centre Of Spirituality

by J. Veltri, S.J.
in collaboration with
Rev. Jean Mitchell




For the full article on one page in slower download click here.
For the article in three pages with faster download click here.
For a series of interviews with John English in preparation for the 1999 Symposium in his honour click here.
For the full size version of the sketch below (in a separate window), click on the image.
Memories -- The Way We Were -- a gallery of those people associated with the work of John English.
There Was A Man Whose Name Was John The Memorial Celebration Of John English's Passover At Guelph June 19, 2004
While contemplating on the parable of the Prodigal Son, my heart stayed at the line "He ran to the boy, clasped him and kissed him tenderly" (Lk 15:20). For some strange reason, Fr. John English, whom I had never met in person, became the boy. He was being held tightly and welcomed affectionately by God. Trying to sketch this image is, in the end, a rewarding experience.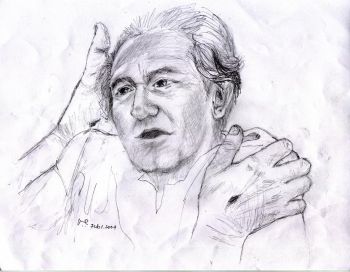 Looking at Fr. John English's photograph intensely for a few days, I see the soft lines on his face, his gentleness and a very natural unassuming aura of love. What a beautiful creation of God, must have been like the prism of God's light to others for most of his life. Lines cannot lie.
In some way it has been a very unique challenge given to me by John Veltri and an honour to be part of this article written with so much respect and love. It is even more so a privilege that God has allowed me to see Fr. English in my prayer. After all, what better gift can anyone give for his 80th birthday (Feb. 7, 2004) than to have a preview of what's coming? Yes, it is indeed an experience that I will savour, despite the initial stress of the unknown.
---
See also one of John English's most recent writings
Singing And Dancing With The Musicale Of Creation
By probing the phenomena and meaning of the experience of creaturehood,
this article brings together science and religious experience.
An excellent vehicle for critical reflection, spiritual direction and personal prayer.
l Prayer Helps l Understanding The Spiritual Journey l Companioning Others l
l New Additions l Topical Index l About The Webmaster l Contact l Home l Of Interest To Jesuits l
l Books l John English, SJ l East Blends With West l