The actual funeral was held four days earlier in Winnipeg, Manitoba. The Memorial eucharist and service took place on Saturday afternoon, June 19 at Loyola House in Guelph, Ontario. On the cover of the memorial flyer were these lines and this image:

In loving memory of a wonderful person whose passover
was accomplished Wednesday evening
June 9, 2004

While contemplating on the parable of the Prodigal Son, my heart stayed at the line "He ran to the boy, clasped him and kissed him tenderly" (Lk 15:20). For some strange reason, Fr. John English, whom I had never met in person, became the boy. He was being held tightly and welcomed affectionately by God. Trying to sketch this image is, in the end, a rewarding experience.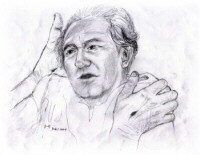 Looking at Fr. John English's photograph intensely for a few days, I see the soft lines on his face, his gentleness and a very natural unassuming aura of love. What a beautiful creation of God, must have been like the prism of God's light to others for most of his life. Lines cannot lie. --- by Vicky Chen
(click small images to enlarge in separate window)

---
In a letter to Vicky about the above sketch Jim Profit wrote: "It was great to meet you (at the memorial service), though so little time to really talk. Hopefully that will come soon. Your sketch of John English was also on the programme of the Winnipeg funeral. Apparently, John had this sketch in his room, and it was by the casket as well during the wake. So, thank-you very much for this. It obviously captured something of John that resonated with many of us.
"'Coincidence' -- well maybe, but probably not! I enjoyed the service, and it was easy to do because so many there just loved John. Bye for now. Jim"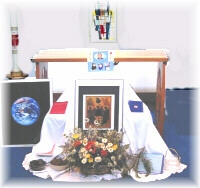 The liturgy opened with a procession of symbols placed in front of the altar. Each symbol was brought up by a different person. Each symbol represented an aspect of John English's life and spirit:
Spiritual Exercises text
Constitutions of the Society of Jesus
A Christian Life Community manual
Three Scotch pine branches -- John was a forester in his earlier days and loved to plant trees, many large still grace the Ignatius College property at Guelph
Icon of the of Trinity -- which represented an essential facet of John's spirituality
Painting of the earth -- in the last fifteen years John furthered his appreciation of the more ecological and communal aspects of Christian Spirituality and, with Lois and Keruvala Zachariah, two colleagues of John's CLC local community, produced a manual which brought together communal spirituality, social and ecological aspects. This work was often referred to as the greening of the Spiritual Exercises
A container of earth from John's grave in Winnipeg
A container of earth from the Jesuit Centre in Guelph
Wild flowers around the grounds of Jesuit Centre in Guelph
Water
Paschal Candle -- symbol of the risen Lord in our midst. John was very fond of this quote: "Jesus died an individual, but rose a community." In fact in the original Disposition Days for the Spiritual Exercises Institute John used the following theme: "When God calls us it is with the power of the risen Jesus by the work of the Spirit present now."
A poster with of John's image at the different stages of his life.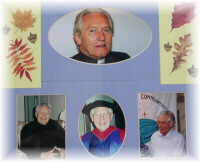 Accompanied by guitar and flute the community sang with exuberance. The leader of our assembly was Jean-Marc LaPorte, SJ, John's provincial superior, assisted by James Profit, SJ and J P Horrigan, SJ. During the homily Jim Profit SJ, Margaret Kane, CSJ and Peter Peloso shared their memories of their close relationship with John over the years. "Honey" was there -- the IHM sister from 1969 and the first May/June Spiritual Exercises Institute who dubbed John "Iron John," a name that was to stick right to the end. It summarized John's insistent belief in the efficacy of the Exercises text. Valeria Zaduk, the first full time secretary of Loyola House and of the original institute was there. John Haley who worked for years with John English and who softened some of Iron John's rhetoric was there. It was wonderful to see so many people from the past and present CLC members, women, men, priests and religious in one experiential moment of communal remembering.

Towards the end of the liturgy we were all invited to express in one word or phrase some one thing about John for which we were most grateful. "The celebration was moving. All the reflections and one-word, one-line gratitude told me about this spiritual giant whom I had never met but had connected mentally through his writings and his influence...."

And then we went outside and planted a tree in John's honour. We poured around its base, the soil from John's resting place in Winnipeg and from the Ignatius College property.

If your browser is not playing the intended music you might try by clicking here.




Did you ever know that you're my hero,
and ev'rything I would like to be?
I can fly higher than an eagle,
'cause you are the wind beneath my wings.

Recorded By Bette Midler
Written By Larry Henley - Jeff Silbar
Album: "Beaches (soundtrack)" - 1988